Jet Packs Did they make a succesful one?
HOME >> Science and Technology
---
TypoMage
Umm what if in the future we found another power source? Like something within the depths of the earth.That could happen. I mean we found lots of ways to power things. I could not name them all. And I do not feel like making a list. Actually I will try.Oil(To make gas)Natural GasCoalSolar PowerUmmmm I cannot really remember anymore

I am on summer vacation I really do not think about these things!

---
Cerebral Stasis
There is practically only one type of energy that we use - mechanical energy to electric energy. Nuclear power plants, coal power plants, natural gas plants, etc. all heat water that boils, releasing steam and then moving at turbine which then generates electricity. Wind power and water power have the turbine moved directly. One of the few exceptions is solar power, which converts the energy of photons into electric energy, although it is, in most cases, rather inefficient (the most efficient way is to use the sun to boil water which then evaporates and turns a turbine, as is the case with almost all power plants).And as for finding a new power source in the Earth, I wouldn't count on it. We pretty much know what's inside the Earth. The chances of finding a power source (as in a material that we can use for power - not thermal power) is highly unlikely.
---
lemonwonder
Well, you reminded me of something, they are going to start building greenhouses, the air inside gets really hot, it rises up a humungous tunnel (tunnel is standing up) and inside the tunnel it has like 9 turbines, it doesnt have greenhouse gases and stuff, and it stores some hot air for when sun isnt out, it makes trillions of watts of power every minute.
---
Cerebral Stasis
Sounds like an excellent renewable source of energy, although I'm surprised that water vapor alone is enough to force a turbine to rotate. I would imagine that it would need more pressure than what little evaporation would provide.
---
Goth_Punk
As lemonwonder said "yes they have made one, it would sell for around 3 million...., its a big square thing with 4 jets, you have to wear a cooling suit, and you can only ride on it for 20 mins at a time, auto detecting winds etc" they have made them but who would acctuly buy these things? and what would they be used for?I say they will be used for one thing and one thing only! WAR!!! The jetpack will just become part of the miletarys attire! So i hope that all plans for the jetpack in the future will fail!!!
---
lemonwonder
yes, unless they can be completely safe, easy to use and healthy for the enviornment, I hope that all fails
---
Gem
Lol i found some cool pics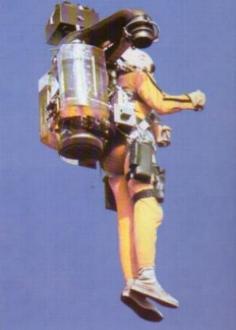 The last one looks real but the others are made in photoshop.
It would be cool if someone could find the video clip form the James Bond: From Russia with love when sean connery drives around vbig ben in a jetpack and posts it on youtube
---
Cerebral Stasis
The last one looks like James Bond.It would be nice if there were some articles supporting the concept of this jet pack that goes for 20 minutes at a time, since I'd recently heard that there isn't one that works for longer than a few minutes, because the fuel is so heavy.
---
TypoMage
Yea most of them do look kind of unrealistic. The last one I think is real. THanks for posting the pictures.So what kind of suit do they have to wear so they will not get burned? Would it be those kind of suits that racecar drivers wear? What would they make it out of

---
lemonwonder
About the person talking about evaporation, its not water at all, its heat that gets so hot that it is forced to climb up the tower, its a very easy way to make power, cost about 20 million dollars, but o boy, they generate like nothing else
---
Reaper
surely no matter what you were wearing it would get way to hot to have a jet pack on your back those jet engines run at really high temperatures and i don't think you would be able to go up for more than a few minutes and to be quite honest to fit jets you would need to get off the ground in a backpack type thing i don't think you would no have more than just a slight bit of lift and i think you would move really slowly. i would be happy to fly in a jet rather than have a jet pack on myback anyday !!!!
---
Cerebral Stasis
Not necessarily. Although it wouldn't technically be a jet pack in this case, the pack could contain powerful turbines that would create the lift necessary for a person to "fly", and not burn their legs to a crisp. Of course, we're not really sure how it works, so it's hard to say.
---
lemonwonder
You dont know about these clothes, they could use the clothes that protect scientists when investigating inside volcanos, now thats hot! The jet packs would be so heavy that you would need a base station, so you land and the jetpacks rest on a surface so that they dont rip you to the ground when you land.I would like to fly a jet-pack, except I dont think I would want to land.And those engines can lift a hefty man, and have pretty good grunt at the same time, you would be amazed
---
TypoMage
Well couldn't they just get a jetpack that wouldn't burn you? On this show the guy put a welder to his hand. This thing could almost melt through anything. And it didn't do anything. He said he powered it by water.So I bet that they will possible. Just like how back then going to the moon was laughed at. Look at us now. Do you people see where I am getting to?
---
lemonwonder
Lol, u cant just get a jetpack that doesnt burn, you need special clothing, its just like creating fire that isnt hot
---
TypoMage
Well earlier someone said that it will not be a type of transportation everyone will have. I am gonna have to agree with him. I mean it is not a typical thing seeing someone fly threw the air with a jepack. So I am going to have to change my opinion. It doesn't seem like it is going to happen.
---
lemonwonder
Yeh but lol, in the 1980's they didnt think it wood be thast you could wirelessly download music, onto a tiny memory card, it didnt seem like a typical thing.Lol nothing seems typical until it actualy gets out there, computers used to be scary, and they werent typical, look at em now
---
steven1022
Yeah that doesnt make sence to me at all, I would like to see the water burning that doesnt burn you though, or the welder ** whatever he meant.
---
Cerebral Stasis
But not believing certain technological feats will be accomplished isn't the same as having practical facts stare you in the face and give you a slap. Jet packs, as far as we can tell, aren't and will not (for a long time) be practical enough for people to use them.And really, why would we need them? They would guzzle fuel and would not really be worth it. If you have to travel somewhere nearby, drive. If you have to fly to somewhere far away, take a plane. There's no reason to have jet packs, aside from the "cool factor", and that isn't enough to make expensive trinkets a commonplace reality.
---
lemonwonder
But, they could be like scooters.People ride their scooters down to the dairy, weather its electric or not, and they just go get some milk and ride back, well think how fun it wood be to take a jetpack and get some buttor or milk..., i mean buttEr
---