BitDefender's GameSafe keeps the impact on processing power, memory & virtual memory to a minimum, allowing gamers to maintain "in game" responsiveness and eliminating interruptions while fighting epic battles!
[TROW][/TROW]
Games, especially online games, are some of the most demanding PC applications in existence. Because of the need to provide near-instant reaction to users' actions, lack of processing power will result in delays in packet transmission, adversely affecting the gaming experience.
GameSafe's gamer mode can be turned on with one click. When activated it will:
Minimize processor time & memory consumption
Postpone automatic updates & scans
Eliminate all alerts and pop-ups
Scan only the most important files
Processor time
Processor time used is probably the best measure of "responsiveness". Background processes that dramatically reduce CPU cycles (like on-access antivirus) are highly undesirable.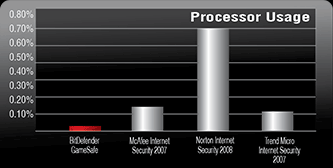 Memory consumption
The amount of memory antivirus scanners use, greatly influences the overall "responsiveness" of the operating system.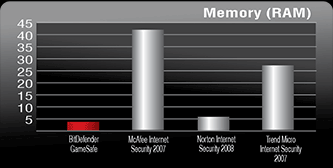 Hourly Updates â fastest in the industry at updating the list
of known viruses and spyware
Blocks even unknown viruses using advanced proactive detection techniques
Detects and removes the newest breed of hidden threats known as rootkits
Anti-Phishing
Protects against phishing attempts by filtering all accessed web pages
Reduces the risk of identity theft by preventing personal information leaks via e-mail or web
Firewall
Controls applications' access to the Internet while "hiding" your computer from hackers
Helps prevent unauthorized access to your Wi-Fi network by notifying you when computers log into the network information