Improvement
HOME >> Staff Room
Tags: forum improvement google
---
vezalua
It seems the forum has some issues.
1 Example is that it is hard  to find the forum.
Are posts about issues appreciated?
Friendly greetings,
From vezalua.
---
yordan
Hi, vezalua, welcome on board!
Of course, all posts are appreciated.
Also, if you see an issue in your own case, remember that our support is available http://www.xistosupport.com/billing/index.php, connect with your account mail and explain which is the problem.
By the way, do you have problems connecting to http://forums.xisto.com/    
Or is your issue something different?
Regards
Yordan
---
vezalua
On 9/5/2017 at 2:42 PM, vezalua said:

It seems the forum has some issues.

1 Example is that it is hard  to find the forum.
The beloved administrator yordan asks questions about the difficulty to find the forum.
This reaction describes this issue.
Lets imagine a person starts to use the internet. This person opens a browser. The Chrome browser opens the website of Google. It is possible to write the address of a website in the window on top of the website. Lets say this person likes to visit the forum. The person  types in: xisto.org. The Enter button leads to the website http://xisto.org.
This is what this internetter sees: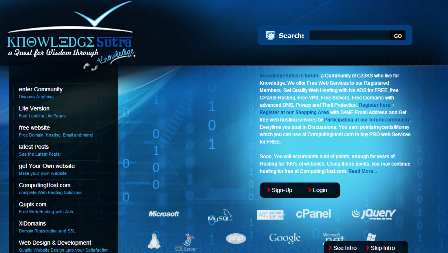 This website shows the old forum name: Knowledgesutra.
The first option in a list of links is: enter community. This button contains a link. This button leads to the internet address:
This page doesn't exist. The browser tells the person:
Quote

| | |
| --- | --- |
|   | The website cannot display the page |
This is 1 example of the difficulties to find the forum.
This is a difficulty, because it means the URL xisto.org can't be used to enter the forum.  And the link on the webpage xisto.org doesn't lead to the forum either. Other ways are necessary to find the forum.
---
yordan
Ouch! the forum address is
You are right, it's somehow tricky. We should fix that
---
OpaQue
I have fixed the xisto.org redirect..
Tysm for bringing this to our attention