[moderators] Report Center - Debug
HOME >> Staff Room
---
BuffaloHelp
Thank you OpaQue for purchasing this valuable mod for our board.
OpaQue will be finishing up with installation of Report Center to Xisto. This Report Center is formerly known as Moderator Center. It is a centralized reporting mod for all incoming REPORT by members. There, you can leave comments on the reported topic. Multiple reports from members are merged into one topic title, featuring multiple reported messages. It's self-explanatory. Once this is installed, you will no longer receive REPORT PM.
Check for active reports next to your MESSAGE link at the top.To operate Report Center,
access it by going to the link (at top right)
1) check one of active reports and use bottom pull-down menu to mark it as "under review", then click GO
 
2) click on the report that you just marked it as under review (the reason for doing this is so that two mods are not handling the same report)
 
3) see the report with comment. if it needs second opinion or whatever, use the comment tab to leave your feedback
 
4) click on "VIEW" to see the topic in report. OpaQue will change later to "VIEW THIS TOPIC" or something
 
5) be sure to mark "under review" as "complete"
 
6) admins can set the auto delete of all complete by going to ACP. Please do not delete reports except by admins--this is just in case
 
7) you can have Report Options where you can be notified via email, PM or through your Assistant.
 
8.) Admins only--you can set severity of the report by setting "points" per "minute" where as the time goes by, the flag color changes according to severity setting. manage it through ACP > Components.
 
9) when a post is reported, it will show blinking red and white ! icon. You can moderate complete or view report using its menu * very cool *
 
10) REPORT is based on post and not topic. If the same topic but different posts are reported, i.e. post #1 and post #2, the Report Center will show two different pending reports.The above steps are just for your information. You guys can handle it however works for you.
Any issues or bugs you may encounter please post them here.
Thank you.
---
xboxrulz1405241485
Where's this "Report Centre" you talk about?xboxrulz
---
BuffaloHelp
I guess OpaQue hasn't installed yet. Please wait until he installs it to Xisto.
---
xboxrulz1405241485
---
BuffaloHelp
Report Center Mod preview:

When you access Report Center you will see different reports with different flag colors. They represent the time past since the report was issued by a member. Figure 1 shows the general panel of Report Center. I added the grey chcked icon for any completed report over 24 hours. Completed reports will have the green checked icon which is less than 24 hours. Admins can set how long before the next icon to appear. This is up to Xisto admins.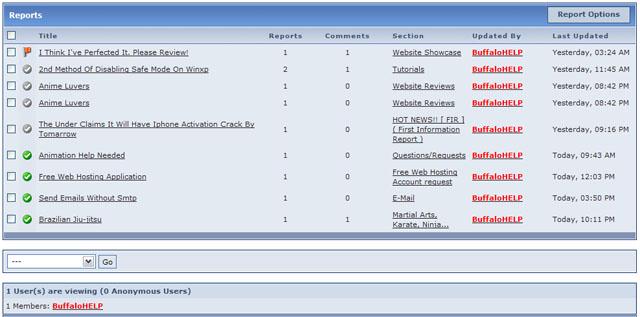 When you click on a report to moderate, the familiar AJAX window opens and displays reported message. The top link "View" refers to the post and the comment left by a reporter is shown at the bottom. Figure 2.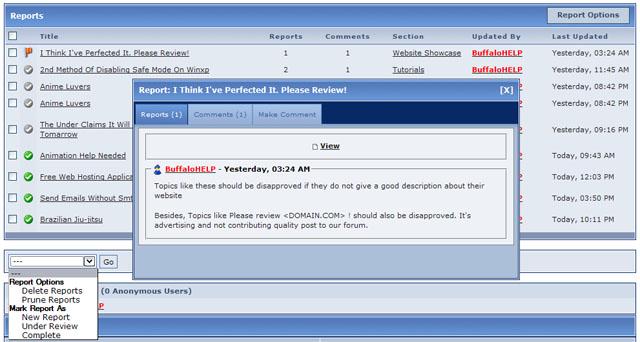 Figure 2 also shows Report Center actions. At the lower left corner you can choose to set the report in a different condition. Setting a report as "under review" is useful so that two or more moderators are not working on the same post in report. Also note that you can see one topic title twice, and they are shown as two separate reports. This is because two different posts were reported under the same topic title.

If you would want to leave a comment regarding this report, use the Comment tab to type your issue/thought.

Figure 3 shows the page when you click on the "View" or any time you run into a post that was reported (even not going to the Report Center). The Red ! Icon is animated icon that brightens and dims. The same icon can be found while browsing through the forum topic index page. It will remain there until a moderator changes the status (complete, under review etc).




The last Figure 4 shows Report Center's ability to moderate a report without going back to the Report Center panel. Very handy since you don't have to go back and forth to complete the task. When the status is changed, the Report Center also updates on the report status. AJAX is wonderful...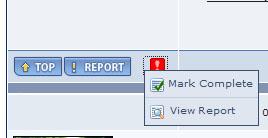 I'm sure most of you know about Report Center already, or have seen the previous version at work. I hope this quick guide helps you out--or at least anticipate what's to come. OpaQue, get a move on!!
---
Jeigh1405241495
I had never seen it before but it seems pretty straight forward and looks very useful. I cant wait to see it up and running to see how it fares in actual use. Should be a nice addition to the boards (well, for us heh)
---
WeaponX
This will be a great added feature for the Moderators and Admins here. Can't wait to see it used in action

---
xboxrulz1405241485
From the looks of it, same here.xboxrulz
---
Jeigh1405241495
so did opaque actually say he was installing that soon or did you just figure it's cool so might as well tell us and get us all interested then make us wait for entertainment value

haha
---
Markymark2
Yes it looks great, cant wait for us to be able to use it, it should cut down on a lot of clicks when performing mod tasks.
---
xboxrulz1405241485
When will this cool new feature be installed?xboxrulz
---
pyost
Only the devil himself knows

Oh yeah, and OpaQue, too

---
BuffaloHelp
Oh sorry guys. I didn't realize OpaQue is out celebrating with one of our members

When the time is right the full story will be revealed. Sorry to be so secretive.Anyway, when he is able to concentrate <-- this is the key word

--he will be installing in Xisto.
---
BuffaloHelp
Report Center is now installed. Testing out Report Center using this post.You have the choice of activating PM or email notification for Report Center (just like the default REPORT notification). From now on, there will not be any email sent to your inbox...unless the feature is still enabled in the forum. Please let me know.
---
xboxrulz1405241485
Yup, I noticed the new Report Centre, great work!xboxrulz
---
Jeigh1405241495
I'm going to be thankful to not get email notifications anymore haha, unless I was just completely blind and we could disable them before... which really wouldn't surprise me but regardless now it will be done regardless so woo :PAlso it all seems pretty cool, nice addition.
---
vizskywalker
I remember we had a center a while ago, and it was helpful. But it was too buggy to last, and didn't. Hopefully this one will last longer as it has a much nicer looking interface, and seems to have more features as well.~Viz
---
pyost
Looks great so far

---
vizskywalker
It looks much better than the old, and has useful interface. Waiting for the AJAX to perform its duty feels a little slow to me, but it's better than waiting for a full page load. I think it might be useful to set it so I get emails of new reports anyway, because whenever I'm on, there are no new reports. Or maybe you are all just really fast. I bet that's it.~Viz
---
yordan
To operate Report Center, access it by going to the link (at top right)
Maybe I am already sleeping, but... where is that "at top right" link ? Or is my IE6 hiding things ?